Industrial panel PCs are industrial computers designed for harsh industrial environments that integrate high-resolution touch display and computing power. The most common application at industrial sites is for human-machine interface (HMI), the communications bridge between the operator and the automation machine. In recent years, improvements in industrial panel PC performance and technology have extended their use to new applications in data collection and analysis, visualization of production processes, machine monitoring and predictive maintenance, and more. These additional use cases fuel growth in the global HMI market, with the global market survey by Allied Market Research estimating the global HMI market will reach 10.8 billion US dollars by 2031, with a CAGR of 10.8% from 2022 to 2031.
Apart from industrial HMI applications, the interactive kiosks we see in our everyday lives, such as the automated multimedia platforms in unmanned stores and self-service kiosks, also use industrial panel PCs. Industrial panel PCs provide computing capabilities and connect to peripheral devices for ticketing, cash handling, check-in, and self-service ordering. According to a report from another market research agency, Grand View Research, the global market size for kiosks will reach 28.45 billion US dollars in 2021, of which more than 45% is for hardware parts such as scanners, card readers, printers, cameras, and panel PCs. Industrial panel PCs have found their place in applications in both industrial environments and daily life.

Nine Critical Considerations in An Industrial Panel PC
With the rising demand for industrial panel PCs, here are the nine key factors to consider when selecting an industrial panel PC:
The first consideration is screen size and resolution, which depend on display content and complexity. Display content could be simple information such as messages, system messages, or graphics; complex multimedia content; or software-specific display requirements. All these factors determine the necessary display size, screen resolution, and display ratio.
Industrial panel PCs typically use resistive or capacitive touchscreens depending on the application and situation. Resistive panels use fingertip pressure to control input and can be used with gloves on, so they are an excellent choice for single-point touch in automation equipment HMI. Capacitive panels sense input through human finger current and support multi-touch, so they can perform zooming, dragging, and other actions, making them well-suited for kiosks and infotainment systems.
The installation location, indoors or outdoors, determines the ideal brightness of the industrial panel PC's display. Generally speaking, the brightness of an LCD backlight used indoors is about 200-300 nits, while outdoors is much higher, about 500-1500 nits. Selecting a high-brightness sunlight-readable display for use under direct sunlight will ensure the operator or audience can see content clearly.
With the rise of smart factories, HMIs are being used to support more functions and smart applications that require high-performance computing. These new applications include machine vision, data collection, voice recognition, browsing CAD files, sensing, and even creating a virtual presence in AR and VR. Still, some panel PCs will continue to serve as simple information display terminals, such as for displaying production information and warehouse management, so they only need processors with general performance, low power consumption, and reasonable cost.
Many factors determine the necessity of fans in factory applications. A dusty environment, for example, can easily hinder a fan's performance, impacting overall system stability, so choosing a sealed fanless panel PC avoids this problem. For high-performance computing applications, a wide temperature and fanless industrial panel PC with a special heat dissipation structure is a better solution that removes the need for holes in the system casing or installing fans, thereby eliminating dust contamination. In short, multiple factors, including the application environment, computing requirements, and heat dissipation, must be considered when deciding whether a fan is needed.
In an industrial environment, machines and equipment face different operational and safety threats, including dust, vibration, high and low temperatures, moisture, chemicals, water, and more. Ensuring reliable operation in these harsh environments necessitates varying levels of protection. The ingress protection (IP) rating is a general international standard used to test and evaluate a product's dustproof and waterproof abilities and determine its protection level. The IP rating consists of two numbers. The first number, with the highest level of 6, indicates the system's level of protection against dust and solid foreign matter ingress. The second number shows the level of protection against water or liquid, and the highest level of 8 indicates it can withstand high-temperature and high-pressure water at close range. The appropriate IP rating of the industrial panel PC depends on the requirements of the application environment.
Using an industrial panel PC in a harsh industrial environment requires a rugged design, including a high-hardness, scratch-resistant glass display (surface hardness > 7H), a wide operating temperature range, and the ability to withstand high vibration and shock. In addition, it is also necessary to design the hardware with excellent protection to ensure electromagnetic compatibility with other devices in the system.
In the face of diverse applications and innovative future smart applications, flexible expansion can futureproof the industrial panel PC for multiple roles. To face multiple application environments, a general industrial panel PC offers various expansion options such as Mini PCIe, PCI/PCIe, and more. These flexible expansion options enable the addition of wireless transmission, extra I/O, and additional functions to transmit data and control various peripheral devices.
The machine design and environment determine the best installation method for an industrial panel PC. The most common installation methods include panel mount, open frame, VESA mount, and rack mount. A panel mount or open frame is the best choice to install the panel PC on the door of a control cabinet or integrate the panel PC as part of a machine before it leaves the factory. A standard 75/100mm VESA mount supports the installation of the panel PC on a cantilever or wall. For a panel PC in a server rack, rack mounts are the sensible choice and can be mounted using accessories with rack mount baffles or metal frames.
Cincoze Industrial Panel PCs

The Cincoze Display Computing – CRYSTAL product line consists of three industrial panel PC series. Each series features Cincoze's Convertible Display System patented modular design, a rich selection of specifications, industrial ruggedness, and international certifications, making them the preferred choice for our customers.
Cincoze industrial panel PC product line includes three series: industrial panel PCs (CV-100/P series) for general industrial environments, sunlight-readable panel PCs (CS-100/P series) for outdoor high-brightness applications, and open frame panel PCs (CO-100/P series) for seamless integration with other equipment. The industrial panel PC series has sizes from 8.4" to 24" and display ratios from 4:3 to 16:9. Customers can choose Intel® Atom®, Pentium®, or Core™ processors of different grades according to the required computing performance. Touchscreen options include multi-point capacitive (P-CAP) and single-point resistive touch. The sunlight-readable panel PC series is known for its high-brightness backlight display with a maximum of 1,600 nits. The display is clear and readable outdoors, even under sunlight. The open frame panel PC uses an integrated structure and patented adjustable mounting bracket, making it the favorite for its simplified on-site installation steps and customizability.
Cincoze industrial panel PCs use Cincoze's exclusive patented Convertible Display System (CDS, Patent No. M482908) technology. From the user's perspective, it is flexible enough to meet future upgrade needs because they can change the display and the system separately. Convertible display modules come with a variety of different features (CV-100, CS-100, or CO-100 series) and can be freely matched with a computer module (P2000 or P1000 series) or monitor module (M1100 series) to form a panel PC or industrial touch monitor. CDS provides a flexible modular design for easy maintenance on-site and future upgrades.

Cincoze industrial panel PCs use industrial-grade components to provide high reliability. The panel has a die-cast aluminum frame, the display surface hardness is up to 7H (P-CAP models), the front panel is IP65 waterproof and dustproof, the chassis is fanless, and the panel PC can sustain continuous operation in extreme temperatures from -20°C to 70°C. The power supply supports 9-48VDC wide-range voltage input and provides multiple protection mechanisms such as overvoltage, overcurrent, electrostatic discharge, and surge protection. These designs make Cincoze industrial panel PCs suitable for harsh working environments and can effectively avoid damage caused by power instability.
Cincoze industrial panel PCs include rich native I/O and functions. For additional needs or functions, M.2, Mini PCIe, and PCI/PCIe expansion slots enable the installation of 4G/LTE wireless communication modules, I/O cards, data acquisition cards, motion control cards, and other expansion applications. Cincoze's exclusive Control Function Module (CFM) enables the optional addition of PoE and IGN functions to save the time and cost of additional configuration, thereby reducing the construction cost of the whole system.
International Certifications
Cincoze industrial panel PCs pass the mandatory product safety certifications, voluntary safety certifications* such as UL, waterproof and dustproof IP65, and anti-vibration/-shock (IEC 60068-2-27, IEC 60068-2-64), and EMC testing standards for industrial environments (EN61000-6-2, EN61000-6-4).
Cincoze Industrial Panel PC Use Cases
Cincoze industrial panel PCs can be used for, but are not limited to, the following applications:
Factory Automation
Industrial panel PCs are mostly used in factories to assist in factory automation, providing functions such as production process visualization, data collection, equipment monitoring, and dashboards. Examples include a production line HMI in a car factory, and for the manufacture of rubber air springs.
Machine Automation
Industrial panel PCs are integrated with or installed nearby the machine and are mostly used as smart terminals, OEM equipment control interfaces, or HMI. Examples include stone processing machines and label printing.
Energy Monitoring
Industrial panel PCs can be used as an HMI for data monitoring and remote device management operations. Examples include water treatment plants, distributed energy, and oil fields.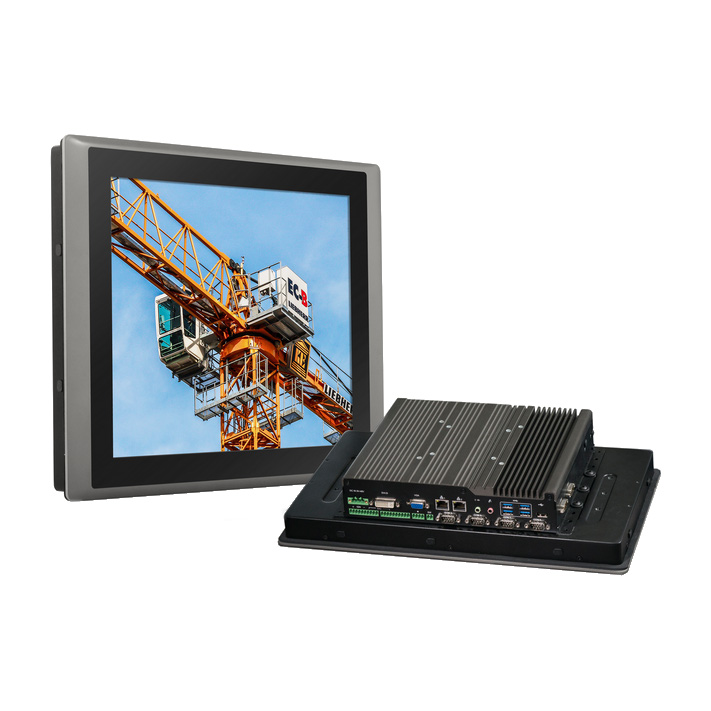 Industrial Panel PC