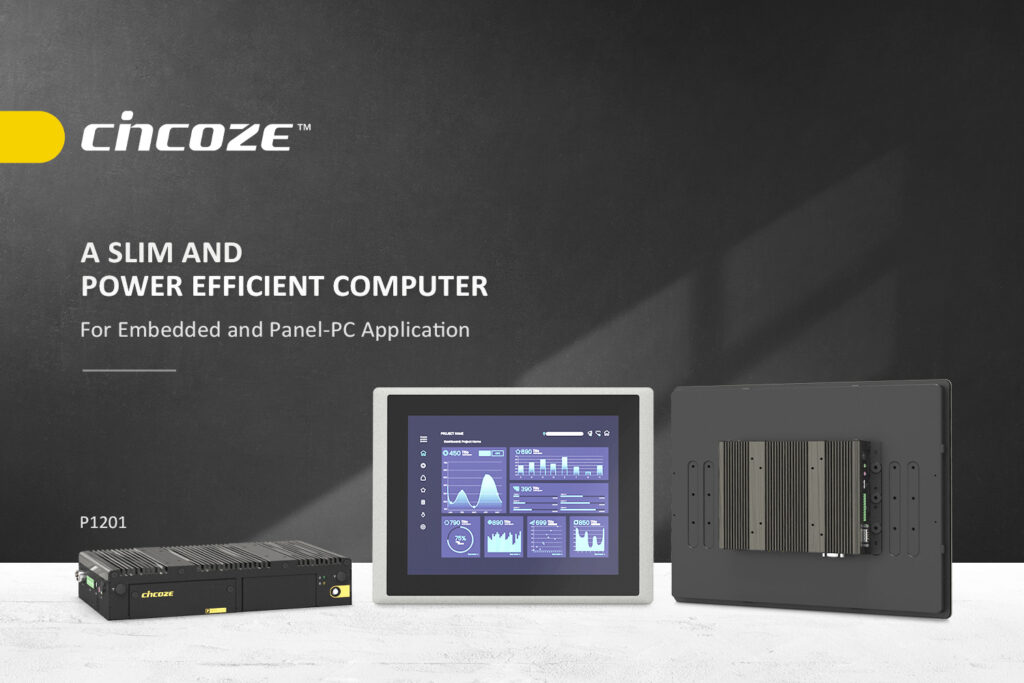 Rugged embedded computer brand—Cincoze, recently launched its latest addition to the Display Computing – CRYSTAL product line, the P1201 embedded computer series. The P1201 packs the improved computing performance of the Intel Elkhart Lake platform into a thin and light body (204.5 x 149 x 41.5 mm) with flexible expansion options. The highlight is the dual-purpose design sets the P1201 apart from other embedded computers. As standard, its ultra-thin design makes it well-suited for data collection and analysis in space-limited applications in machine equipment and control cabinets. Attach one of a range of display modules to the P1201 using Cincoze's exclusive CDS (Convertible Display System, Patent No. M482908) technology, and it becomes a panel PC suitable for HMI applications.

New Platform Double Performance
The P1201 uses the Elkhart Lake platform Intel® Atom® x6425E quad-core processor, delivering 1.7x the single-core performance and 1.5x the multi-core performance of the previous generation Apollo Lake processors. It also supports DDR4 memory up to 32 GB and 3200 MHz. The Intel® UHD graphics chip ensures smooth graphics by doubling the processing performance of previous generations. Greatly improved computing performance shortens processing times, thereby increasing work efficiency.

One Computer Two Purposes
The ingenuity of the P1201 lies in the "one computer, two purposes" design. On its own, it is an ultra-thin embedded computer suitable for installation in narrow spaces to perform long-term, uninterrupted computing tasks. By adding a display module through Cincoze's exclusive CDS technology, the P1201 becomes a panel PC. According to the environment and application needs, three types of panel PC are available, including industrial panel PCs (CV-100/P1201), high brightness panel PCs (CS-100/P1201), and open frame panel PCs (CO-100/P1201), with each series offering a variety of sizes, display ratios, and touchscreen options.

Suitable for HMI and Mobile Robots
The native I/O ports (GbE LAN, USB 3.2, COM, and DIO) meet the requirements of most HMI applications. For the requirement of wireless transmission in mobile robots, the P1201 supports a Wi-Fi 6/Intel CNVi/Bluetooth module through the M.2 Key E slot for faster transfers, and it supports a GNSS/4G module through the Mini PCIe slot, covering the full spectrum of wireless transmission needs.

Vibration Resistance and Industrial EMC Protection
The P1201 is typically installed in equipment, control cabinets, and mobile robots, where vibration resistance and EMC are the main challenges. The P1201 passes a range of vibration and shock tests, including random vibration (5G), sinusoidal vibration (1.5G), and shock resistance (50G), meeting the EMC testing standards for harsh industrial environments (EN 61000-6-2 and EN 61000-6-4). The P1201's high-standard, industrial-grade protections further ensure product safety by passing the UL certification for contact leakage, flammable materials, and rugged exterior.
Configure and Purchase