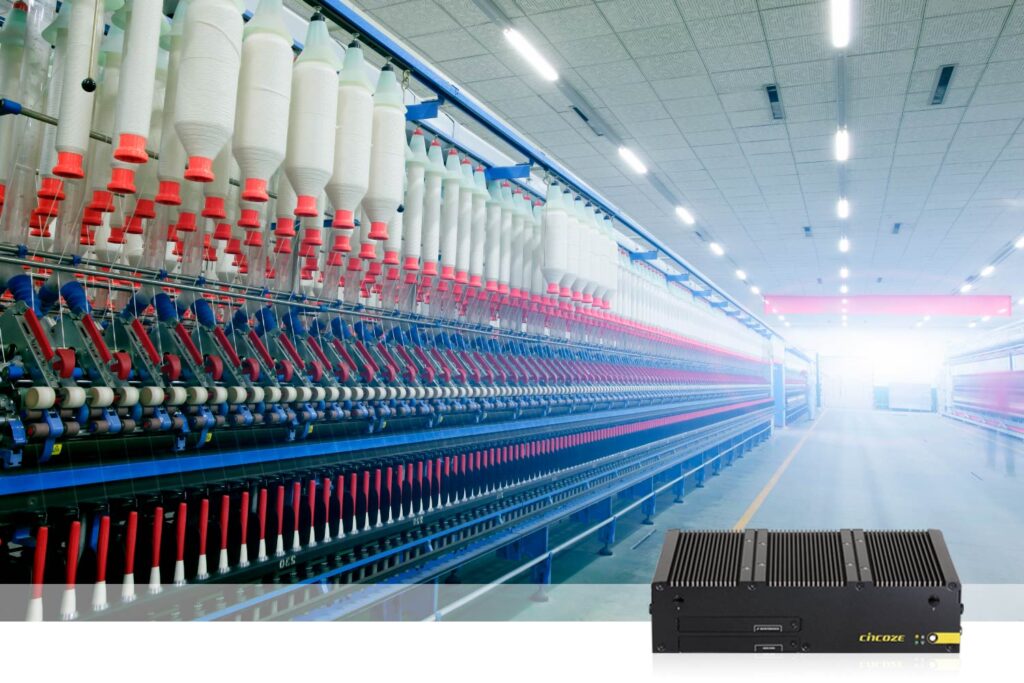 Introduction
It's no secret that investment in automation can enhance business productivity. In fact, textile manufacturing has been innovating for decades, even centuries, to scale up production to the large-scale processes used in modern textile production. But now, as textile manufacturers face labor shortages, low production efficiency, and high energy consumption, they're adopting hi-tech automation technologies to overcome those challenges. These smart, automated spinning systems combine sensors and edge data collection for centralized management and oversight of productions through a cloud control center, enabling intelligent monitoring, energy management, operational analysis, and predictive maintenance. This high-level view of operations is transformative, enabling significant reductions in production costs and energy waste while meeting discerning customers' demands for quality, speed, and customization.
A European textile machinery manufacturer renowned for the power efficiency, flexibility, and high-quality output of its spinning machines has integrated the Cincoze P2102E into its spinning system to connect and monitor the machinery and various peripherals. They also developed custom management software integrated into the entire system. This intelligent spinning system allows factory managers and operators to perform equipment automation management from a control center or remotely using smartphones. The system's capabilities include real-time equipment monitoring, power monitoring, energy management, and more, thereby achieving operational goals of high quality, high efficiency, low energy consumption, and reduced labor requirements.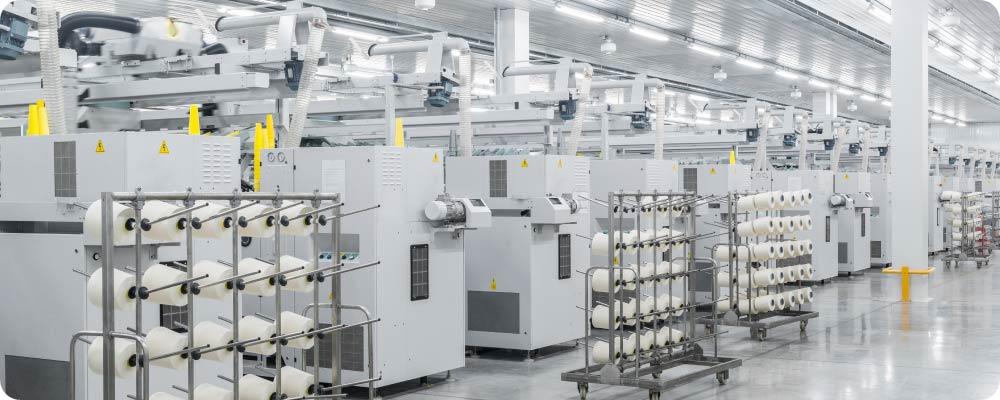 Customer Requirements
Compact Computers
Textile machine manufacturers are dedicated to creating machines that save space in order to reduce their customers' investment and maintenance costs for factory floor space. Because of this, the integrated embedded computers must also have a compact design to minimize space usage.
I/O Connectivity
To monitor the spinning system effectively, the embedded computer should be capable of acquiring data from multiple sensors, including those for fiber quality and yarn tension. It should also collect data on the surrounding environment, such as temperature and humidity. Furthermore, the computer must connect with peripherals such as PLCs, counters, and motion controllers. This means that the computer must have many I/O interfaces and PCI expansion slots to integrate with various sensors and devices.
Withstand Harsh Environments
In a harsh factory environment, the computer must be rugged and durable to ensure the continuous operation of the production line over a long period. During the process of twisting fibers into yarn, the vibrations caused by the machine's rotational speeds pose a challenge for computers. The computer needs to have excellent durability and shock resistance to ensure the stability of the spinning system.
Why Cincoze?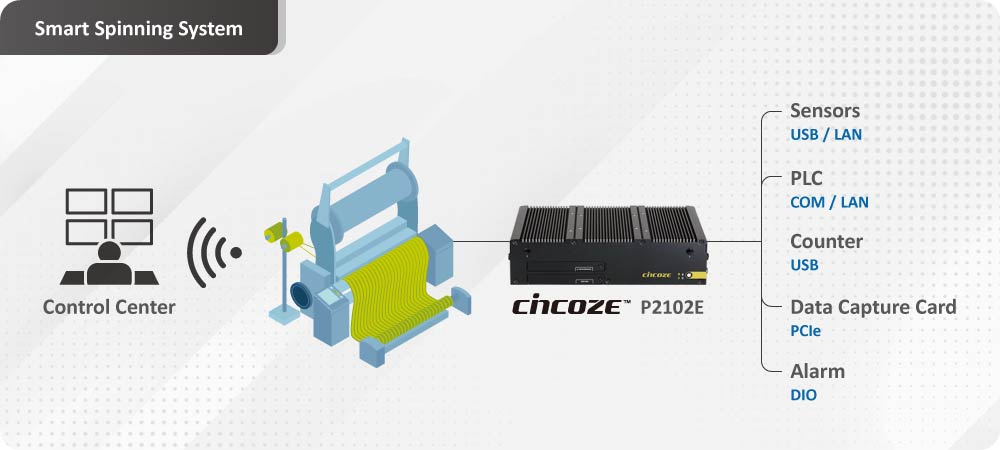 Slim and Power Efficient
The P2102E, equipped with PCI/PCIe expansion slots, has a height of only 61 mm, while the P2102 without PCI/PCIe expansion slots has a height of only 41.5 mm. This slim design is suitable for various small spaces. The P2102E uses an 8th generation Intel® Core™ U-series i5/i3 processor, providing high performance with a low power consumption of only 15W TDP, making it suitable for IoT edge computing or applications in battery-powered mobile devices.
Rich I/O and Flexible Modular Expansion
The P2102E features rich I/O and additional functions suitable for connecting peripheral devices in industrial IoT. The I/O ports include 1x VGA, 1x DisplayPort, 2x GbE LAN, 3x USB 3.2, 4x COM, 16x isolated DIO, and more. The P2102E model also provides an add-on PCI or PCIe x4 slot, supporting expansion cards for data acquisition, motion control, and other I/O cards. With 1x M.2 2230 key E and 2x Mini-PCIe expansion slots, it can meet the wireless transmission needs of Wi-Fi, 4G, GNSS, and more, enabling a wireless connection to shuttle collected sensor data back to the control center for remote monitoring.
Industrial-Grade Rugged Design
The P2102E is built with the highest-spec industrial-grade components, designs, and protections for stable, long-term operation in harsh industrial environments. Features include fanless and cable-less design, wide operating temperature range (-40°C to 70°C), high shock resistance/vibration capability (50G/5G), wide-range DC power input (9-48V), and industrial-grade electrical protection (OVP, OCP, ESD, and surge). The P2102E has obtained UL 62368-1 safety certification from Underwriters Laboratories Inc., the most authoritative and credible accreditation in the United States, ensuring durability, reliability, and the safety of operators and enterprise assets.